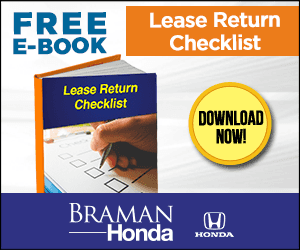 When it's time to let go of your leased vehicle, do you know how to get it get it ready for return? Do you know the specific items you must bring with you on return day? If not, our team at Braman Honda near Miami, Doral, and Hialeah, FL, has crafted this informative and FREE Lease Return Checklist!
Inside this helpful eBook, you'll learn about how to self-inspect your leased car as well as know what to expect when it comes to the professional inspection. We also cover these topics to keep you in the know:
Potential end-of-lease charges
How you can prep your vehicle before return
End-of-lease options
And more!
No matter if you're a loyal lessee or a first-timer, everyone can benefit from our FREE eBook about returning your leased vehicle. Interested in reading more? Fill out our form below to download your own Lease Return Checklist!