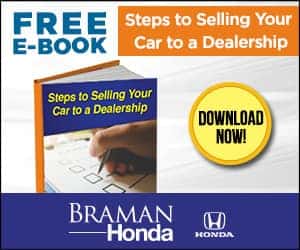 Our team at Braman Honda knows that buying a car is an investment. Selling it is the best way to get a return on that investment. Selling your car to a dealership is the safest and easiest way to go about the process.
That may leave you wondering what steps you need to take when selling your car to a dealership. Our eBook: Steps to Selling Your Car to a Dealership has a step-by-step guide that'll break it all down for you. Inside, you'll learn more about:
Steps to take before selling
The process of selling your car to a dealer
What to do once you have your offer
If you're looking for a dealership near Miami, Doral, and Hialeah, FL, that will buy your car, contact the team at our Honda dealer.